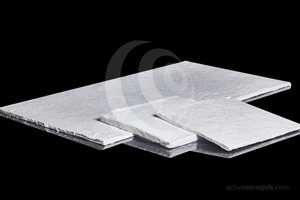 Aeroflex is a synthetic, porous, ultralight composite material that offers exceptional properties suitable for a variety of high performance insulation applications. These can be applied as thermal insulation on oil ducts, pipelines, buildings, atmospheric balloons, re-entry vehicles, launchers, among others.
Aeroflex nanoporous structures are based on monolithic aerogels, thus presenting intrinsic advantages over competing solutions, such as:
higher hydrophobicity;
lower density;
reduced particle shedding;
higher thermal insulation;
smaller bending radius.
Properties
| | | | |
| --- | --- | --- | --- |
| | | Aeroflex | Silflex |
| Composition | | Silica  based | Silica based |
| Density | kg m-3 | 100 | 105 |
| Thermal conductivity (SATP) | mW m-1 K-1 | 31 | 24.9 |
| Specific surface area (BET) | m2 g-1 | 387 |  – |
| Pore size | Å | 56 |  – |
| Cp | kJ kg-1 K-1 | ~1.8 |  – |
| Young Modulus | kPa | ~22 |  – |
| Flexural Modulus | kPa | ~52 |  ~51 |
| Operating Temperature | ºC | [-250; 350] |  [-250; 350] |
| Contact angle | º | 143 | – |
| Permittivity | | 1.2 | 1.18 |
| loss tangent | | 0.003 | – |
| Outgassing | | TML-0.36%, WVR – 0.016%, RML – 0.34%, CVCM – 0% |  – |
| Radiation 60Co 5 kGy, dose rate 17 Gy/h | | Pass |  – |
| Adsorption capacity – Liquid phase | | | |
|    Crude oil adsorption | g oil/g aerogel | 10 | – |
| Adsorption capacity – Vapour phase | | | |
|    Toluene (24h contact) | mg/g | 208 | – |
|    Toluene – after regeneration 100 °C              (24h contact) | mg/g | 174 | – |
Download the product data sheet:
Aeroflex Leaflet – EN
Silflex Leaflet – EN
Download the safety data sheet:
Aerogel Aeroflex Safety data sheet
Aerogel Aeroflex Fiche de donnees de securite
Aerogel Aeroflex Sicherheitsdatenblatt
Aerogel Aeroflex Ficha de dados de segurança
Aerogel Silflex Safety data sheet
Aerogel Silflex Fiche de donnees de securite
Aerogel Silflex Sicherheitsdatenblatt
Aerogel Silflex Ficha de dados de segurança